Chelsy Smith
Practice Administrator
As the Practice Administrator, Chelsy oversees the day-to-day operations and facilitates business development and marketing efforts. Prior to joining SGK in 2017, Chelsy studied Biochemistry at the University of Central Arkansas. In her free time, she enjoys spending time with her husband and chocolate lab, playing tennis, sewing, reading, and traveling.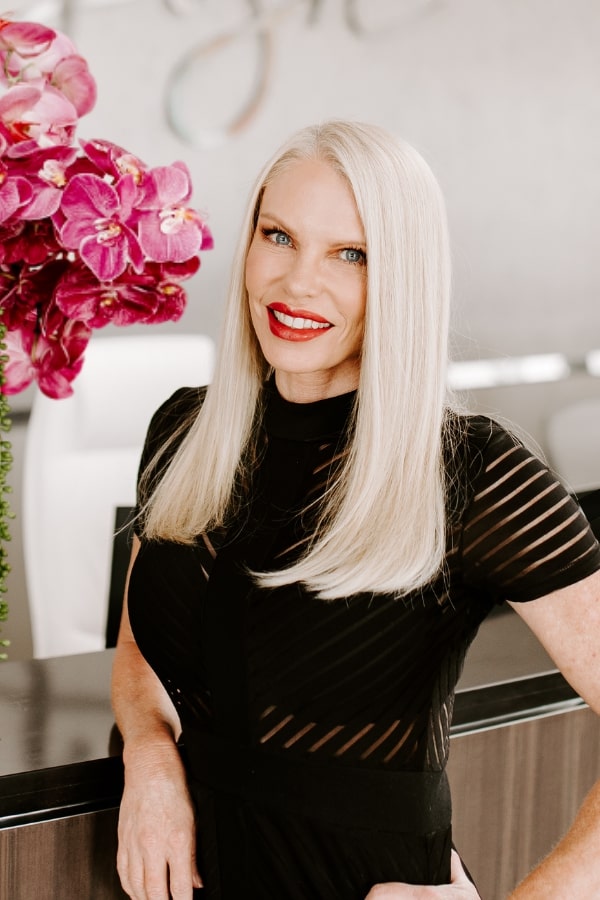 Kathy Bagley
Patient Care Coordinator
Recognized as "the sweetest one in the office," Kathy is that previously unrecognized jewel in our practice. Initially joining SGK as a Certified Surgical Technologist in 2013, it was Kathy's thoughtful, caring attitude and sincere desire to help others that drew Kathy to the Patient Care Coordinator role she serves in today.
Kathy's extensive background in assisting Dr. Kim through the years of surgical procedures now provides her with a unique insight, which she uses to assist patients in selecting their choice of aesthetic enhancements.
Kathy's no-question-to-small approach and genuine desire to make every patient's encounter a special one has made her an outstanding window into our practice. After Kathy helps patients in scheduling their initial appointments, she continues to facilitate and guide patients throughout their transformative process. This often entails Kathy being present with Dr. Kim as the initial visit and aiding to create a customized aesthetic plan that establishes a unique, personal experience for each patient.
In addition to her role as PCC, Kathy also provides her compassionate care in the area of non-invasive procedures. Trained and certified in the use of IPL and Morpheus8, Kathy performs these services for patients not requiring or not ready for a surgical approach to their aesthetic needs.
Away from the office, Kathy enjoys exercising, interior design, and hanging out with friends/family.
Sarah Gleisberg
Patient Care Coordinator
Sarah joined SGK Plastic Surgery in 2022 as a Patient Care Coordinator! She comes to us with 5 years of experience in plastic surgery. Sarah grew up in Wisconsin, and moved to Texas for college and graduated with a bachelor's degree in business. She is passionate about her work, and helping patients achieve their personal goals to look and feel their best. With her friendly and outgoing personality, Sarah strives to provide patients with the best possible experience.
As a patient care coordinator, Sarah works alongside Dr. Kim to help ensure patients feel comfortable, heard, and supported. She makes sure the patient's experience is enjoyable and seamless every step of the way. Sarah says the most rewarding aspect of her role is being a part of the patients journey and witnessing happy and satisfied patients and their extra boost of confidence! In her free time, Sarah enjoys traveling the world and exploring new destinations. She loves the beach, fitness, fashion, and her fur baby Pomeranian.
Rachel Jarrell
Aesthetic Nurse Practitioner MSN, APRN, AGACNP-BC, PCCN, SANE-A
Bringing over a decade of nursing experience, Rachel has been an integral part of SGK since joining the team in 2016. She graduated with her ADN in 2009, her BSN in 2012, and her MSN in 2020. While her innate passion is aesthetics, her previous clinical experience includes step-down ICU and forensic nursing.
As our Aesthetic Nurse Practitioner, Rachel provides each of her patients with an individualized and comprehensive facial analysis. Her recommendations are founded on safety, candor, and optimal aesthetic outcomes. She executes each treatment with knowledge of anatomy and the components of facial aging. She is a perfectionist by nature, which is apparent in her results. While she has extensive experience with the Allergan, Galderma and Merz injectable portfolios, she is always eager to expand her knowledge base. Rachel also serves as our thread-lift expert and performs all of our Silhouette InstaLift procedures.
Rachel's passion for her profession is second only to that of dogs! She is a huge dog lover and fervently supports the ethical treatment of all animals. In her limited free time, Rachel enjoys watching crime dramas and spending time with her partner, David, and their son, Royce.
Pamela Killian
Aesthetic Nurse Injector
Cheerful and kindhearted are two words that immediately come to mind after meeting Pamela. Although her knowledge and experience is extensive, it is her passion and eye for the art of aesthetics as her warm personality draws people to her.
Pamela began her career in aesthetic nursing with our practice in 2013. As one of our aesthetic nurse specialists, she has undergone extensive training and ongoing continuing education in the area of non-surgical treatments. This allows her to provide our patients with the latest and best methods for numerous beauty enhancement techniques such as; Botox, dermal fillers, microneedling and chemical peels. Consistent with her friendly and thoughtful attitude, Pamela seeks to provide personalized treatment plans that offer our patients the aesthetic satisfaction they seek while still maintaining a natural rejuvenated appearance.
Pamela's care and understanding for patients is not limited to the non surgical side of SGK. She has significant experience in all aspects of perioperative nursing care including preoperative, intraoperative and postoperative recovery patient management.
As if SGK does not keep her busy enough, Pamela enjoys spending time with her husband, two children and four dogs. She also finds time to workout and loves to travel any chance she gets.
Roni Schaefer
Aesthetic Nurse Injector, BSN, RN
Roni began her journey with us in 2019. Prior to joining SGK Plastic Surgery, she started her nursing career in 2013 and received her Bachelor of Science in Nursing degree from the University of Texas at Arlington! Roni has extensive experience in Orthopedic Trauma, Perioperative, Surgical, and Aesthetic Nursing. She has always had a passion for plastic surgery and aesthetics; she loves seeing the joy in our patients from the transformations they receive here at SGK.
As an Aesthetic Nurse Injector, Roni's desire to provide excellent results while making her patients feel safe during treatment is her top priority. Whether you are interested in Botox or dermal fillers, you will receive a personalized treatment plan that will help accentuate your natural beauty! Roni is passionate about staying up to date with the newest cosmetic injectables, and innovative techniques to provide her patients with the best care and results. When she's not in the office, Roni enjoys spending time with her husband and babies, traveling the world, and spending time outdoors.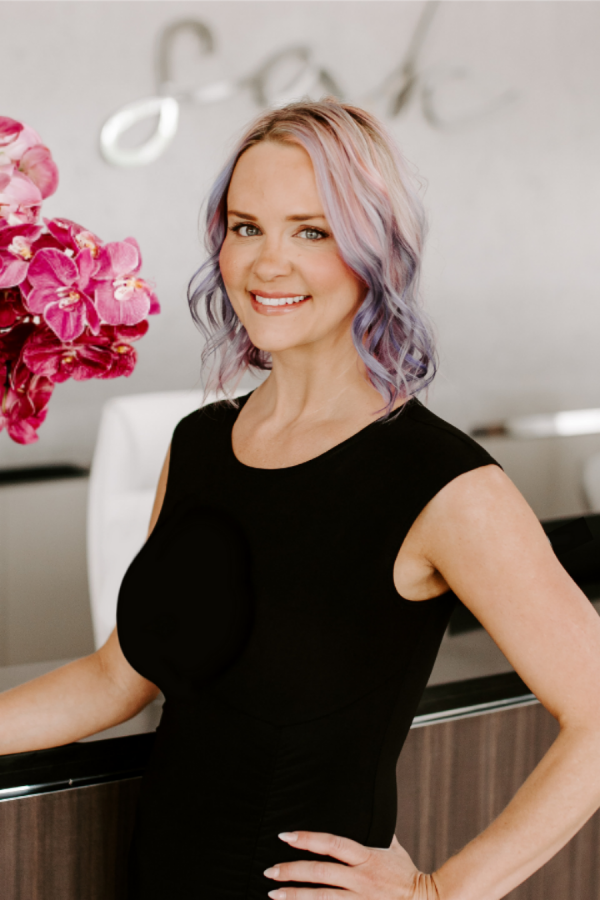 Brooke Cold
Medical Aesthetician and Laser Technician
Brooke's career began in the aesthetic industry in 2006 as a Spa Coordinator where she soon realized she had found her true calling in the Aesthetic Industry. Her passion first led her to The Aveda Institute in 2009 from which she graduated and became a licensed Esthetician and again in 2018 as an Esthiology Educator. As a skin care expert, Brooke strives to educate her clients while helping them improve and maintain the integrity of their skin and body through professional treatments and home care regimens. Brooke's goal is to ensure that every client is treated with optimal customer service, receives the best and most effective treatments for their desired results, and returns as a loyal customer. She facilitates this in all aspects of her career as both an esthetician and laser technician as well as an Esthiology Educator.
Megan Guidry
Aesthetic Medical Assistant
Megan joined SGK Plastic Surgery in 2021. She started in the medical field as a scrub tech but soon realized the operating room didn't provide her enough human interaction. Her passion is patient interaction and getting to know her patients on a personal level. Megan has experience in both cosmetic and medical dermatology. Her cosmetic dermatology experience inspired her to transition in the plastic surgery arena. When she's not in the office, Megan enjoys traveling the world, spending time with her children, and loves visiting her home state of Michigan to see family.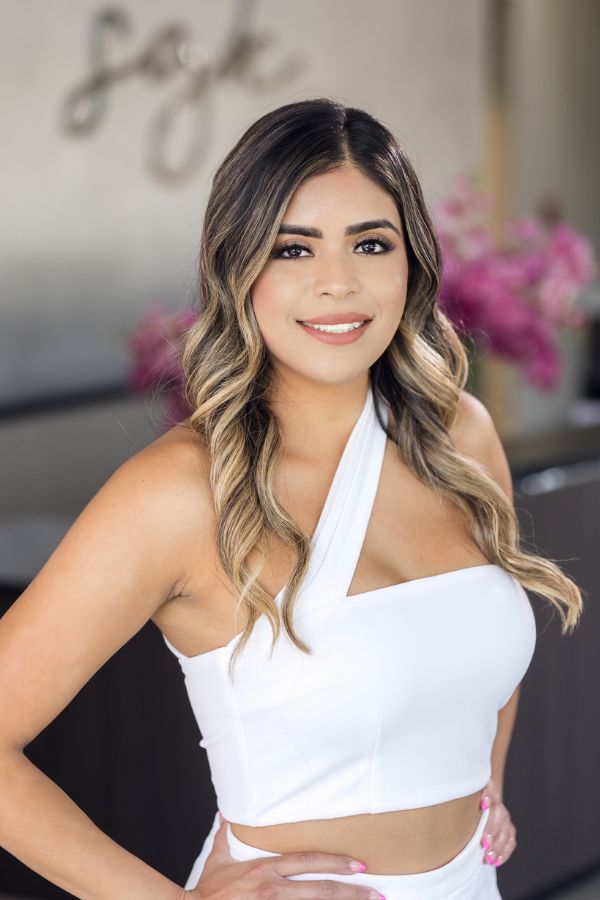 Daisy Martinez
Lead Surgical Nurse, RN
Daisy joined the SGK family in 2021. She is bilingual in Spanish and brings over 10 years of medical field experience. Her background includes both inpatient and outpatient nursing. Daisy completed her Associate of Science in nursing from LSC and is pursuing her Bachelor of Science in nursing degree. Daisy is committed to providing a great experience and excellent nursing care to all our patients. She loves being a part of each patient's surgical journey and assisting them any way she can. Daisy's hobbies include traveling, cycling, running, and attending her children's sporting events. When she's not in the office, Daisy enjoys spending time with her husband and two children, as well as their pups, Max, and Chase.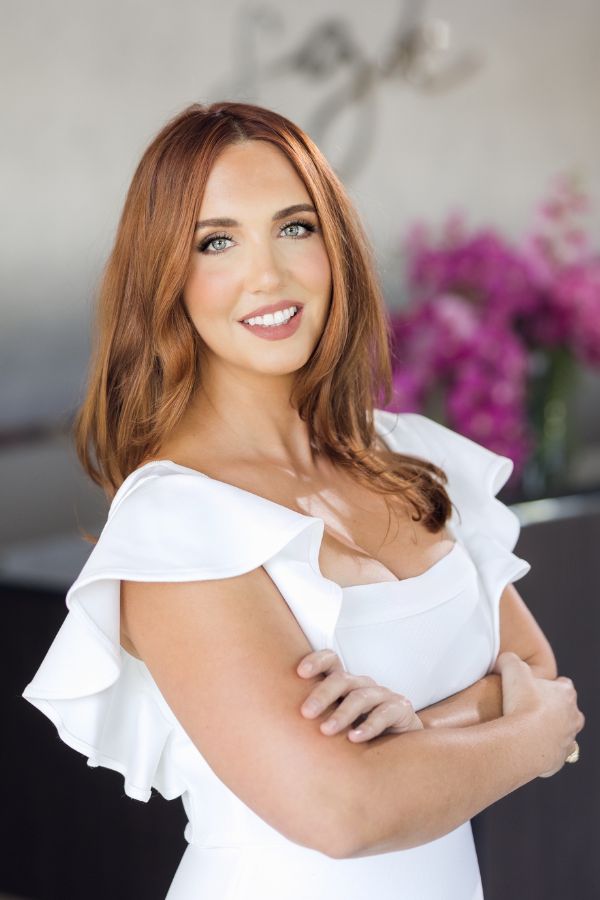 Krystal Cameron
Surgical Nurse, BSN, RN
Krystal found interest in science and surgical procedures as a teenager but it would be many years before she saw this interest play a leading role in her career path. Krystal attended both Texas A&M University for her BA in Communications and University of Texas Medical Branch for her BS in Nursing. Her background is perioperative services in a hospital setting where her working knowledge and love of surgical nursing grew. Combining her fascination of surgical nursing and aesthetics it only seemed the best fit that her career would lead her here to SGK. In her time off Krystal enjoys reading, being active with her son, traveling and spending time with family and friends.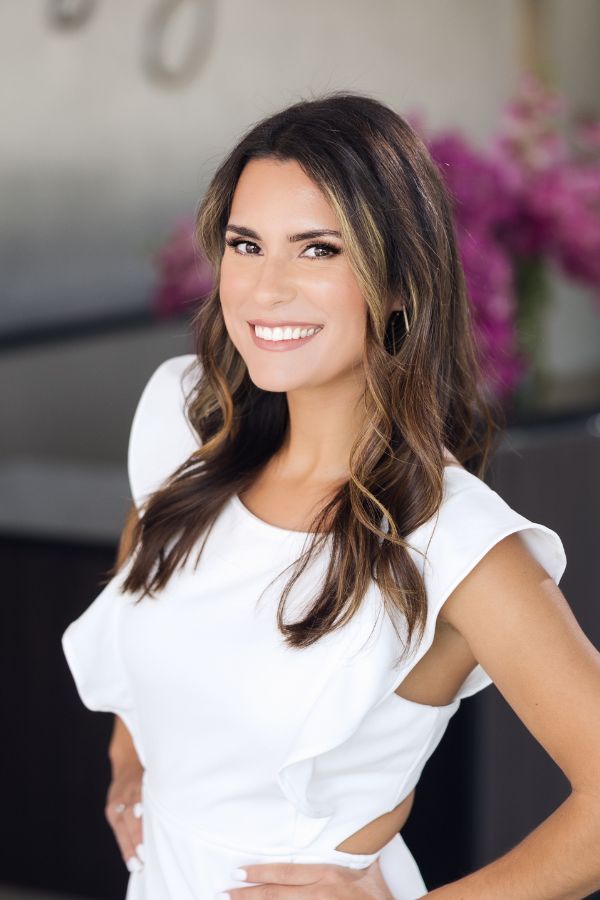 Briana Loera
Surgical Nurse, BSN, RN
Briana joined SGK Plastic Surgery in 2022 as a Surgical Nurse. She graduated from University of Texas Health Science Center in San Antonio with her BSN in 2019. Prior to joining our team, she worked as a medical/surgical nurse at Houston Methodist TMC and The Woodlands! When she's not in the office, she enjoys spending time with her loved ones, going on walks with her dog Bentley, and traveling with her honey!
Michelle Outmon
Surgical Nurse, BSN, RN
Michelle joined the surgical team in 2022. She graduated from UTMB with a Bachelor of Science in Nursing! Prior to SGK, Michelle worked at MD Anderson Cancer Center as a bedside nurse in an Intermediate care unit. As a Surgical RN, she provides compassionate care to our patients pre/ post-operation. When she's not in the office, Michelle enjoys cooking, traveling, hiking, and spending time with her husband!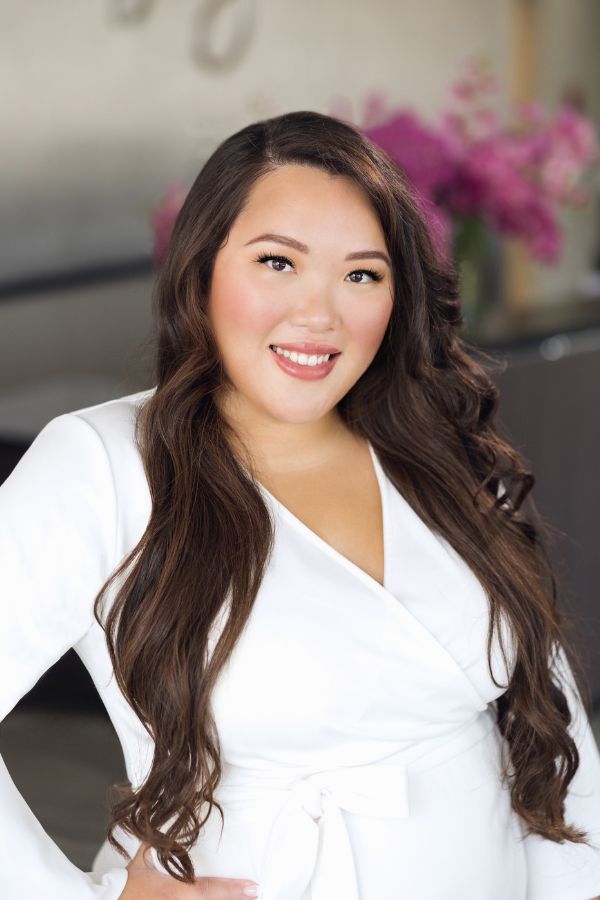 Stephanie Sanabria
Social Media and Marketing Coordinator
Stephanie joined the SGK family in 2021. As our marketing gal, she oversees all digital marketing and coordinates our fabulous events! With her creative eye, Stephanie captures alluring content for our social media and loves sharing the beautiful transformations created here at SGK. She continuously brings a modern and fresh perspective to all her projects while maintaining a results-driven disposition.
Stephanie is a certified digital marketer and received her Associate of Science degree from LSC; she is furthering her education by pursuing a BBA in Marketing from the University of Houston. When she's not in the office, Stephanie enjoys photography, painting, cooking, traveling the world, and spending time with her husband and their two fur babies.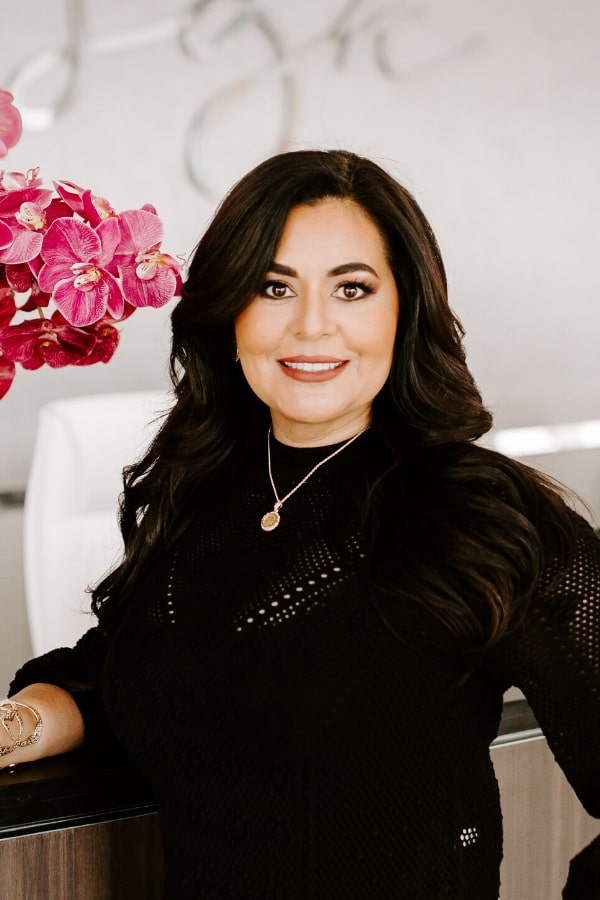 Adelina Cantu
Lead Front Desk Coordinator
Adelina is a native Houstonian, but she has resided in The Woodlands area for 16 years. She is excited to be the smiling face and friendly voice that you see and hear when you contact SGK Aesthetics & Plastic Surgery. Through her experience working in the front office in cosmetic dermatology, Adelina has learned the ins and outs of various patient reward programs such as Brilliant Distinctions. When Adelina is not in the office, she enjoys spending time boating and saltwater fishing with her husband four sons. She is also a devoted and loyal fan of the Houston Astros!
Arielle Gonzalez
Office Coordinator
Arielle joined SGK Plastic Surgery in 2021 as an Office Coordinator! She is one of the friendly faces you see when you enter our facility. Arielle brings a passion for all things beauty and aesthetics! Prior to SGK, Arielle graduated from the Aveda Arts & Science Institute and has worked in the aesthetics industry since 2017. When she's not in the office, Arielle enjoys crafting with her Cricut, and spending time with her husband and their two children.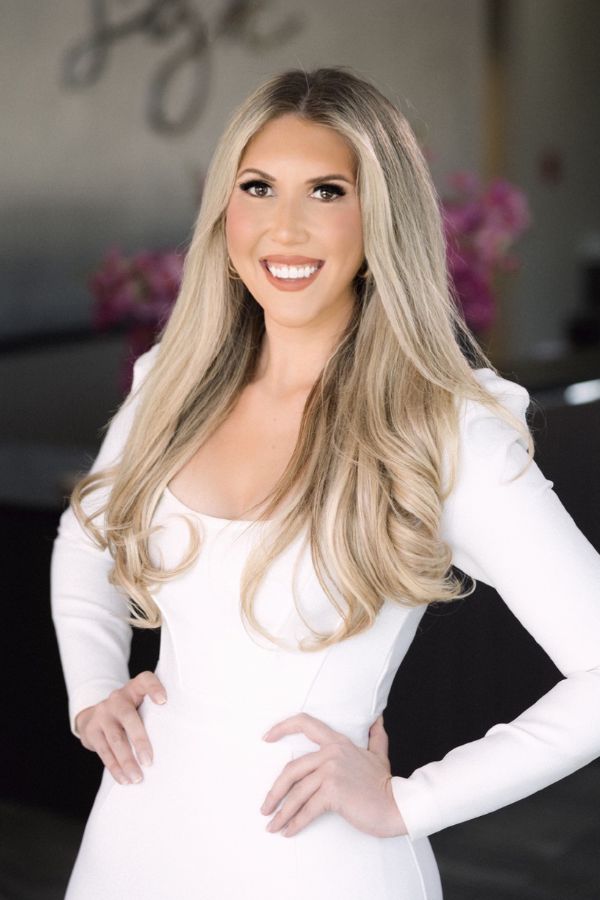 Hailey Smith
Front Office Coordinator
Hailey is one of the first friendly and smiling faces you see when you walk into our office. She is committed to providing exceptional service as well as comforting patients throughout their surgical journey with genuine and sweet composure. With a background in medicine, as well as beauty and customer service, she is passionate about helping patients look and feel their very best. Hailey manages the front office by scheduling appointments and managing daily operations. She helps create a productive work environment while ensuring patients receive the care they need. In her spare time, she enjoys spending time with her family, working out, makeup, fashion and evening-time true crime television with her sweetheart.
open