Autumn Skin Care — What to Do After Summer?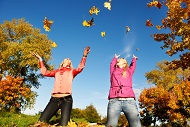 Summer is coming to an end, and autumn is near. As the seasons change, you are probably adjusting your wardrobe choices: choosing to wear pants instead of shorts and sweaters instead of short-sleeved shirts. You may not realize it, but you should also adjust your summer skin care routine to meet the demands of the cooler autumn months. If you are not sure exactly how you should change your skin care routine once summer is over, don't worry. Dr. Sugene Kim of SGK Plastic Surgery shares some tips to help you modify your skin care regimen appropriately this fall.
Switch Moisturizers
During the hot, humid summer months, you might opt for a lightweight moisturizer that does not leave your skin feeling oily. During autumn, however, the temperatures drop and the air becomes dryer, leaving you with dry, flakey skin. To combat the added dryness that fall brings, choose a heavier cream- or oil-based moisturizer. Your skin will thank you!
Exfoliate
Autumn is a symbol of revival. This fall, revive your skin by exfoliating. By using a gentle exfoliating formula once or twice a week to slough away dead skin cells, you will unclog your pores and reveal the underlying healthy, reinvigorated skin.
Don't Forget Sunscreen
It's easy to forget sunscreen when the sun is hidden behind clouds. Nonetheless, the sun's harsh ultraviolet rays are always present — rain or shine. So, don't forget to apply a broad-spectrum sunscreen with an SPF of at least 15 before you head out of the house each morning.
Reach out to Dr. Kim for Help
If you have tried these tips, but still notice that your skin is dry, cracked or simply dull during autumn, reach out to Dr. Kim for help. She offers many nonsurgical skin care treatments — including chemical peels, microdermabrasion and skin-tightening treatment — that are designed to give you healthy, radiant skin.
To schedule a consultation with Dr. Kim to learn more about your skin care treatment options, please contact SGK Plastic Surgery by calling (281) 363-4546 today.