Could No-needle Botox be a Few Years Away?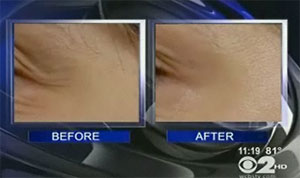 A bio-pharmaceutical company in California is exploring a "no-needle" Botox product that could be applied to the skin in cream form like a lotion, reports WCBS-TV in New York City.
Revance Therapeutics says that it will be two years before clinical trials of the product—called RT001—are complete. Then it will be up to the FDA to decide whether to approve the drug, which is being tested for use on crow's feet. Patients in the early trials tended to see a moderate reduction in wrinkles around their eyes after using the product for a month.
Safety is a major concern for some of the doctors who have heard of the product.
Dr. David Colbert, a New York City dermatologist, told WCBS-TV that he worries that a Botox lotion would be so popular that black market versions would be sold online without oversight and that the potential muscle paralyzing effects could be dangerous.
"I think it's a brilliant idea, but I'm more concerned about the welfare of people who would use it irresponsibly," he says.
Revance's website says that "We believe that we can significantly expand the market by providing an attractive alternative to the current treatment options."
Dr. Scott Newman, a plastic surgeon in Manhattan agrees, comparing it to the "holy grail." He says the potential benefit is worth the risk. "If you can get a wonderful result with less downside, why wouldn't that be an attractive option?"
Dr. Anthony Youn, a plastic surgeon in Michigan, sees a lot of potential in such a product. He writes on his website: "I think a huge application of this topical botulinum toxin is in sweat reduction. Could you imagine an antiperspirant stick with this product that lasts several months with each application and leaves no residue? I'd buy it!"
The segment can be viewed at http://wcbstv.com/video by searching for "Botox cream."
(before & after use of RT001 for 28 days; image via WCBS-TV)