Facial Rejuvenation: Your Surgical and Nonsurgical Options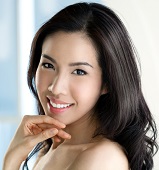 Are you bothered by facial wrinkles, deep facial creases, sagging skin throughout the face or displaced facial fat? Do you desire a more rejuvenated facial appearance? If so, you might benefit from undergoing facelift surgery or a nonsurgical facial rejuvenation procedure with plastic surgeon Dr. Sugene Kim at SGK Plastic Surgery. Whether you require surgical intervention or are not yet ready for cosmetic surgery, Dr. Kim offers a facial rejuvenation treatment option that is right for you.
Facelift Surgery
As we age, the facial skin loses its elasticity and starts to sag. Muscle tone degenerates, and fat migrates to unwanted areas of the face. Facelift cosmetic surgery is an effective way to combat these visible signs of facial aging, especially the ones throughout the middle to lower areas of the face. With facelift surgery, Dr. Kim can improve the look of loose skin that hangs off the cheek, jaw and neck areas. She can address facial folds and deep-set creases, as well as repair the underlying structures for a smoother, more toned and rejuvenated look overall.
Injectable Treatments
At SGK Plastic Surgery, Dr. Kim offers an array of injectable treatments, each designed to target a specific sign of facial aging. For instance, she offers BOTOX Cosmetic and Xeomin injectable treatments, both of which relax the facial muscles in the treatment area. By relaxing the facial muscles, the overlying wrinkles also relax and are smoothed out.
Dr. Kim also provides dermal filler injectable treatment to restore volume to areas of the face lacking fullness and / or to enhance certain facial features, such as the lips or cheeks. Juvéderm hyaluronic acid-based filler is intended for use in improving the look of nasolabial folds; it can also be used to enhance the lips. Radiesse filler is best used on deeper wrinkles and creases around the mouth. Belotero filler can be molded to the patient's unique facial contours. Finally, Juvéderm VOLUMA XC has recently been approved by the FDA for use in enhancing the cheeks, thereby providing a subtle lift throughout the treatment area.
Start on Your Way to Facial Rejuvenation Today
If you would like to improve the look of noticeable signs of aging throughout the face, it's time to find out more about your facial rejuvenation surgical and nonsurgical treatment options. By contacting SGK Plastic Surgery, you can start on your way to rejuvenating your facial appearance today. To schedule a consultation with the Woodlands / Katy plastic surgeon Dr. Kim and learn more about our facial rejuvenation treatments, please contact SGK Plastic Surgery by calling (281) 363-4546 today.