Four Popular Plastic Surgery Procedures for Men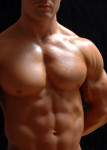 The number of men pursuing cosmetic surgery enhancement has skyrocketed in recent years, and shows no signs of slowing down. As a leading plastic surgeon serving The Woodlands, Spring, Conroe and Katy, TX areas, Dr. Sugene Kim of SGK Plastic Surgery has met with countless men with various reasons for seeking cosmetic surgery. Here, she shares four procedures commonly requested by her male patients.
Male Breast Reduction for a Chiseled Chest
Gynecomastia (also known as "man boobs") currently affects 40 to 60 percent of men. The condition occurs when excess breast fat and tissue accumulates, resulting in a more feminine-looking chest. Many men with enlarged breast tissue feel self-conscious about their physique and often desire a chiseled and more masculine-looking chest. Male breast reduction removes excess fat and skin for a more flattering chest that a man can confidently show off.
Tummy Tuck Surgery for Toned Abs
Women aren't the only ones concerned about love handles and muffin tops. Many men also want a trimmed and toned abdomen but struggle to shed those last inches of fat or flabby skin. For these patients, Dr. Kim offers tummy tuck surgery, which can remove small, stubborn areas of fat and skin that are resistant to diet and exercise. By removing excess skin and retightening tissue and abdominal muscles, Dr. Kim can help men achieve a firmer, flatter abdomen.
Rhinoplasty for a Flattering Nose
Some men spend years embarrassed by an overly large nose or an unattractive bump, while others may seek cosmetic surgery on the nose following an injury or accident. In any case, rhinoplasty is performed to reshape and resize the nose for a more flattering appearance. Many men find that rhinoplasty improves not only the appearance of the nose but also the balance and symmetry of the face as a whole, and therefore the overall facial appearance.
Eyelid Surgery for Younger-Looking Eyes
Like women, men are concerned with looking young and refreshed. Puffy eyelids and dark under-eye circles can make anyone look tired or even older. Eyelid surgery is sought out by men who want to rejuvenate the eye area. The procedure can treat both the upper and lower eyelids by removing excess skin and fat and tightening the remaining skin for a smoother-looking appearance. By removing excess skin and lifting drooping skin, the eyes instantly look bigger and brighter.
What Are Your Plastic Surgery Needs?
Whether you want a more masculine, toned physique or younger-looking face, Dr. Kim can help. Schedule a personal consultation with Dr. Kim today by calling (281) 363-4546.