Getting Your Body Spring Break Ready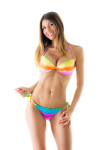 The hot days of spring break are fast approaching, and if you're planning a trip to the Gulf Coast or the pool, you're probably looking to get your body bikini-ready. Not to worry! Double board-certified plastic surgeon Dr. Segune Kim offers a variety of procedures to smooth out problem areas and accentuate your curves. You still have time to get the body you've always wanted and to heal from surgery in plenty of time to party! Read on to learn a bit more about some of our popular procedures.
Liposuction
If you're unhappy with a stomach pooch, saddle bags or another place on your body with extra fat, liposuction can smooth out these common problem areas. At SGK Plastic Surgery, you can have liposuction to permanently remove the fat (including fat cells) from these unwanted fat pockets so that they will never return again as a trouble area! Your newly sculpted, slimmer body will be ready to show off in a bikini within weeks! For optimal results, plan for at least five weeks of recovery so that most of the swelling goes down.
Tummy Tuck
Do you have loose, sagging skin or a little bit of extra meat on your tummy that you wish were gone? Whether as a result of aging, pregnancy, weight loss or other reasons, a flabby looking stomach doesn't make most women excited about wearing a bikini. Tummy tuck surgery at SGK Plastic Surgery will not only remove excess skin and fat on the abdomen, but also tighten the underlying muscles, giving you a tauter, flatter stomach. Dr. Kim is careful to place incisions low on the abdomen during surgery, so that scars are easily hidden behind bikini bottoms. If you're interested in tummy tuck surgery, talk to Dr. Kim about how long you will need to plan for recovery, and information on protecting your scars from the sun, when planning your spring break vacation.
Laser Hair Removal
Want to go on vacation and leave your razor at home? If you plan to live in your bikini for the duration of your spring break, why spend your time worrying about stubble or unsightly hairs cropping up unexpectedly? We offer laser hair removal to remove hair from the underarms, legs, bikini area and other areas for several months at a time. The procedure is a pain-free, non-invasive treatment that uses focused laser energy to disable hair follicles in the treatment area. You can expect the treated hair to fall out in the first couple of weeks, and begin to enjoy your new, silky-smooth skin.
Let Us Help You Plan Your Spring Break
It's never too early to start planning for spring break, especially if plastic surgery will be part of your plans. If you're interested in one of the procedures discussed in this post, or if you are considering another procedure to beautify you in time for your vacation, schedule an appointment with Dr. Sugene Kim at SGK Plastic Surgery by calling 281-363-4546.