How to Keep Your Breasts Looking Young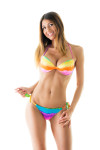 What woman doesn't want to preserve — or return to — the firm, buoyant breasts of her youth? Gravity may be inevitable, but there are a few ways to slow the sagging effect that time has on our breasts. In this post, Dr. Sugene Kim shares lifestyle habits that contribute to keeping your breasts as young-looking as possible.
Maintain a Stable Weight
A woman's breast skin is especially prone to losing elasticity, as the breasts compensate for adjustments in size as a result of pregnancy and breastfeeding. Gaining and losing a large amount of weight will stretch out the breast skin, leaving it slack, with sagging breasts as a result.
Don't Smoke
Add this to the list of reasons not to smoke: it ages your breasts. Smoking causes blood vessels to constrict and prevents oxygen and nutrients from being delivered to skin cells. It also damages the collagen and elastin in the skin, proteins that strengthen the skin cells and support skin elasticity. The breakdown of the skin cells causes the skin, including breast skin, to sag.
Get Adequate Bra Support
A good bra that adequately supports the weight of your breasts as you move — while at the same time distributing their weight so that you don't end up with back, neck or shoulder strain — is necessary. When your body is in motion, your breasts will bounce, which strains the connective tissue that attaches your breasts to the chest wall, as well as the skin that covers the breasts. This straining causes the skin to stretch, resulting in droopy breasts over time. A well-fitting everyday bra and sports bra will prevent this wear and tear on your chest.
Protect Your Breasts from Sun Damage
Harsh sun rays can do real damage to the delicate skin on and around the breasts. The décolletage, the part of the skin that covers a woman's collarbone, is especially vulnerable to sun damage, with crepey skin (a telltale sign of aging) resulting. This skin is also part of the support structure for the breasts, so whether you are going topless or not, it's important to use sunscreen with an SPF of at least 30 on any exposed areas of the chest.
Get Regular Mammograms
This tip goes beyond vanity — it's also about your breast health. An estimated one in eight woman will be diagnosed with breast cancer in their lifetime. That being said, early detection has saved thousands of lives over the years. It is important to get your breasts checked — it is recommended that woman 40 years old and older have mammograms every one to two years, though a woman of any age who notices lumps or changes in their breasts is advised to have a breast exam to detect symptoms.
Learn about Your Breast Surgery Options
Like the tips listed above, but still want to take the next step to having firmer, perkier breasts? Then breast lift surgery, often combined with breast augmentation surgery, may be the right fit for you. Find out more about the breast enhancement procedures offered by Dr. Kim by contacting SGK Plastic Surgery when you call (281) 363-4546.