How Young Is Too Young for Breast Implants?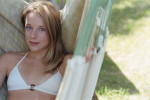 Reality TV star Kylie Jenner has been the target of recent rumors that she underwent breast augmentation surgery. Thousands of news outlets have reported that she had breast implants placed (in addition to having other treatments, such as lip augmentation).
Hundreds of thousands of women, including celebrities, have breast implants placed every year — so what makes this story so salacious? Kylie is only 17 years old and won't celebrate her 18th birthday until August.
Plastic surgery experts, including Dr. Sugene Kim of SGK Plastic Surgery, believe that 17 years old is too young for breast implants and other plastic surgery procedures. In fact, according to the FDA, it is forbidden.
Here, Dr. Kim explains the age limit considerations for breast implants.
FDA Age Limits
The FDA has strict regulations for implant use in breast augmentation cases. Per FDA guidelines, saline implants may be placed in teenagers 18 and older. This means that Kylie could legally have saline implants placed as soon as her August birthday. However, if she prefers the look and feel of silicone implants, she must wait a few more years. The FDA has approved the use of silicone implants in women over the age of 22.
Both saline and silicone implants may be used for breast reconstruction purposes in women of any age.
Physical Development
One of the reasons that the FDA and plastic surgeons have these rules in place is that breasts continue growing throughout the teenage years. Proportions can change. It would not be wise to augment breasts that could naturally increase in size within a few years.
Some teenagers feel embarrassed by breast asymmetry; but like having naturally small breasts, this condition may correct itself during the late teenage years, thereby eliminating the need for surgery.
Psychological Maturity
Breast augmentation is a surgical operation that involves temporary discomfort and disfigurement during recovery. Any candidate must be psychologically stable and mature to deal with this. Also, patients should be able to follow strict instructions from Dr. Kim and her surgical staff on the day of surgery and as they heal. Generally, teenagers under the age of 18 have not matured psychologically enough to handle this experience appropriately. Frequent mood swings or depressive episodes due to hormone fluctuation can also affect psychological maturity of teenagers.
Learn More about Breast Implants
If your teenager has expressed the desire for breast implants, and you would like the opinion of a professional, please contact Dr. Kim today. Call (281) 363-4546 to make your appointment.