Most Common Mommy Makeover Combinations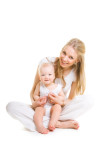 Pregnancy and nursing are some of life's most rewarding experiences; however, they can have a negative impact on the mother's body. Some mothers feel embarrassed or self-conscious about the changes in their body, to the point where they avoid looking in mirrors or having their photos taken.
Are you one of them?
If you are unhappy with the way your body looks after pregnancy and nursing, Dr. Sugene Kim, a Woodlands/Katy plastic surgeon, has a solution. She offers mommy makeover, which combines multiple plastic surgery procedures to address various cosmetic concerns.
Here, Dr. Kim explains the most popular mommy makeover combinations.
Breast Lift + Abdominoplasty
Treats: Saggy breasts; downward-pointing nipples; stretched-out abdominal skin; excess abdominal fat; weak/separated abdominal muscles
Dr. Kim can combine breast lift and abdominoplasty (a.k.a., tummy tuck) to accomplish the following:
Restore saggy breasts to a more youthful-looking position on the chest
Give the breasts a more pleasing shape
Correct downward-pointing nipples so they point straight ahead
Remove localized fat deposits around the abdomen
Remove excess abdominal skin/tighten the remaining skin
Repair weakened/separated abdominal muscles
Breast Augmentation + Abdominoplasty
Treats: Small or flat "pancake" breasts; excess skin/fat on the abdomen
Some women notice that their breasts look dramatically smaller, or resemble flat pancakes, after nursing. Breast augmentation with saline or silicone implants will increase the bust line and add more cleavage. Abdominoplasty will create a flatter and firmer abdominal profile.
Breast Surgery + Body Contouring
Treats: Cosmetic breast and abdominal concerns; areas of excess fat around the hips, thighs or buttocks; cellulite
Breast surgery and body contouring surgery can be combined for a total body makeover. Breast surgery will improve the size, shape and position of the breasts. Tummy tuck will address concerns in the abdominal area (skin/fat/muscles) and liposuction can eliminate surplus fat deposits around the hips, thighs or buttocks. Cellulaze will improve the appearance of pesky cellulite.
The combination of breast and body procedures may be performed in one operation, or staged out separately.
What Your Mommy Makeover Will Entail
Mommy makeover is not a "one-size-fits-all" treatment. Actually, it is tailored to the concerns of the individual patient. Your mommy makeover will include whatever procedures Dr. Kim feels will help you achieve your unique goals. Those goals could include bigger, fuller breasts; a tight, toned tummy; and/or thinner thighs.
If you want your pre-baby body back, Dr. Kim encourages you to book a consultation with her to talk about your goals. Please contact SGK Plastic Surgery by calling (281) 363-4546 today.