Post-Bariatric Procedures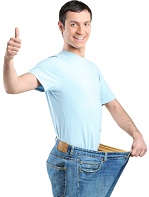 Often, individuals who have lost a major amount of weight, either through making healthier lifestyle choices or with the help of bariatric surgery, are disappointed to find that they still do not have the ideal figure they desire — and deserve. Dr. Sugene Kim is proud to help patients like these finally achieve the fitter figure they have worked so hard to attain — with post-bariatric cosmetic surgery. Here are some of the post-bariatric procedures she performs.
Body Contouring Procedures
With extreme fluctuations in weight, the skin can lose its elasticity, so it will no longer "bounce back" to a smaller shape or size once excess weight has been lost. This can lead to sagging, loose skin that hangs off the body. Also, the underlying tissue structures can become damaged, so certain areas of the body cannot be toned without surgical intervention. Fortunately, Dr. Kim can correct these aesthetic concerns with body contouring or body lift procedures.
With body contouring procedures, Dr. Kim eliminates the loose excess skin from the treatment area and repairs the supporting structures before re-draping the residual skin and closing the incision. The result is a firm, contoured look throughout the treatment area.
Dr. Kim offers arm lift to restore a tighter contour to the upper arms, thigh lift to provide a toned contour throughout the thigh area, and body lift to tighten and tone the trunk and / or lower body area.
Breast Lift (With or Without Augmentation)
Dr. Kim can also provide post-bariatric patients with breast lift surgery to improve the look of sagging breasts. With breast lift surgery, Dr. Kim raises the breasts to a higher, more youthful location on the chest. She can also correct the look of southward-pointing nipples that have migrated down the front of the breast.
Facelift
Unfortunately, the face is not immune to the same aesthetic concerns that affect the rest of the body following massive weight loss. After major weight loss, the facial skin can also start to sag. Muscle tone is lost, and any residual fat may have become displaced. To correct these aesthetic concerns, Dr. Kim performs facelift surgery.
Take the Next Step
If you are ready to find out how post-bariatric plastic surgery can help you, come in for a consultation. To schedule a consultation Dr. Kim and learn more about your post-bariatric cosmetic surgery treatment options, please contact SGK Plastic Surgery by calling (281) 363-4546 today.