Say "I Do" to Plastic Surgery with a Bridal Makeover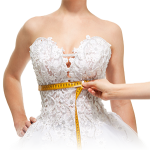 Are you preparing to tie the knot, and want to look your best on your big day? Cosmetic enhancement (via surgical or non-surgical means) can help you feel more confident and beautiful on your trip down the aisle.
Cosmetic enhancement does require some planning, however. It's important to visit a board certified plastic surgeon like Dr. Sugene Kim of SGK Plastic Surgery well in advance of your wedding day, in order to give yourself enough time to have treatment and fully recover.
In anticipation of the upcoming wedding season, Dr. Kim has some tips for brides-to-be seeking beauty treatments.
Body Contouring
In the movie "Bride Wars," Kate Hudson enthusiastically declared, "You don't alter a Vera to fit you, you alter yourself to fit a Vera!" (She's referring to Vera Wang wedding dresses, of course.) Kate's character might have been a little neurotic, but she reminds us of a good point.
Brides-to-be that need help fitting into their wedding gowns may be interested in body contouring procedures with Dr. Kim. Liposuction is a great option for eliminating targeted areas of stubborn fat that won't respond to diet or exercise. On the other hand, Cellulaze can smooth away lumpy, dimply cellulite.
Facial Rejuvenation
All eyes will be on the bride, and now is the time to look as luminous and radiant as possible. A nonsurgical treatment like laser skin resurfacing, microdermabrasion or chemical peels can reduce the appearance of superficial skin imperfections (e.g., wrinkles, fine lines, uneven texture); and injectable fillers can fill in facial folds and lines, or add volume to thin lips. If you opt for non-surgical facial rejuvenation, complement your treatment with professional skin care products.
Laser Hair Removal
Planning a tropical or beach honeymoon and want to be completely free of unwanted body hair? Schedule laser hair removal treatments on the armpits, legs or bikini line. Depending on the amount of hair, you will likely need a series of treatments, spaced several weeks apart. So allow yourself a couple of months to achieve the desired results.
Did your engagement photos call attention to an area of your face or body that you would like to improve? It's not too late for a bridal makeover. With Dr. Kim's help, you can look and feel your best on the most important day of your life.
Contact SGK Plastic Surgery by calling (281) 363-4546 today, and schedule a consultation with Dr. Kim. After discussing your goals, she will map out a treatment plan.