Spring Break Skin Care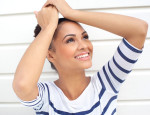 This Friday, we will welcome the first official day of spring! Are you celebrating with a spring break trip? Whether you're staying in town or heading out to the beach, make sure your skin looks its best. Here, Dr. Sugene Kim of SGK Plastic Surgery shares a few spring break skin care tips.
Exfoliation
The long winter can wreak havoc on your skin. It's time to slough off those dead, dull cells to expose the fresh skin underneath! Try using an exfoliating face or body scrub at home several times a week for skin that is soft to the touch.
Or, for a more intensive facial treatment, ask our skin care team about laser skin resurfacing or microdermabrasion. These treatments will ablate the top layer of damaged skin, remove superficial imperfections and reveal the underlying healthy skin.
Sun Protection
If you're packing your bags for a beach trip (or just heading out to the pool or park), it's critical to protect your skin appropriately. Apply a sunblock product with good coverage, and wear protection in the form of tightly woven clothes, broad-brim hats and sunglasses.
Hydration
Hydration is important to enjoy supple, beautiful skin. Drink at least eight glasses of water per day (more, if you're working out). Hydrate your hair and dry scalp with a special hair oil for shinier locks. And, talk to our skin care team about trying some new hydrating and moisturizing products. Generally, lightweight products are more appropriate for spring than the thick, heavy creams you've been using throughout winter.
Tanning
As the weather warms up, skimpier types of clothing become more comfortable in the heat. Having a bit of a tan can help you look thinner and more toned in shorts and sundresses. Avoid dangerous tanning beds and shop around for at-home tanning lotions or creams. Alternatively, most beauty salons offer professional spray tanning services to give you the deep color and warm glow that you love.
Wrinkle Treatment
Did you notice wrinkles or fine lines cropping up around your face over the winter? Injectable products like Botox, Juvederm and Restylane can eliminate the appearance of lines to restore youthfulness to your face. Easily maintain your results with regular treatments.
If you would like your skin to look its absolute best this spring, enlist the help of Dr. Kim and her professional team. Please contact SGK Plastic Surgery today by calling (281) 363-4546 and schedule an informational consultation.