ASPS Statistics Show Plastic Surgery Up Five Percent in 2010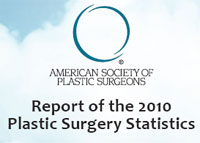 New statistics released by the American Society of Plastic Surgeons (ASPS) showed that 13.1 million cosmetic plastic surgery procedures were performed last year in the United States, a 5 percent increase from 2009.
The Society links the increase to the rise in consumer confidence. "The financial markets are at a two year high, we're seeing a double digit increase in the percentage of auto sales over a year ago, and as the aging population continues to grow, people are investing in plastic surgery procedures to help stay competitive in the workplace," said ASPS President Phillip Haeck, MD.
Cosmetic Surgical Procedures
Cosmetic surgical procedures increased 2 percent last year.
Facelifts increased by 9 percent, after not experiencing growth since 2007, and body contouring procedures were also up, with a large number of these procedures coming after massive weight loss.
The top five surgical procedures were as follows:
Nose reshaping
Eyelid surgery
Dr. Haeck again noted how the economy was related to the increases:
"There's some pent up demand for cosmetic surgical procedures. People have waited a couple of years or more to have procedures, until their finances were at least somewhat back in order. But, all indications are, more consumers are again willing to spend more to look better."
Cosmetic Minimally-invasive Procedures
Non-surgical cosmetic procedures increased 5 percent, and the top five procedures were:
Botulinum toxin type A
Soft tissue fillers
Chemical peel
Laser hair removal
Microdermabrasion
"Injectables have remained robust despite the economy," said Dr. Haeck. "Botox® and Dysport® injections are up 12 percent, while, interestingly, fat injections are up 14 percent, which could reflect how a patient's own fat is being used in more creative ways to rejuvenate the face and body."
View the 2010 Report from ASPS for more data on cosmetic procedures, as well as stats for reconstructive procedures.