Fat Transfer Causes Confusion on Mammograms, Study Finds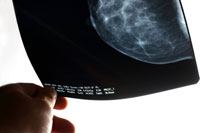 A new study warns against fat transfer for breast augmentation, saying it can cause false suspicion of breast cancer on follow-up mammograms.
The study, published in the April issue of Plastic and Reconstructive Surgery (PRS) journal found that mammographic changes occurring after the fat transfer procedure — in which fat from other parts of the body is obtained through liposuction and transferred to the breasts — are indistinguishable from abnormalities associated with breast cancer.
Based on this "mammographic confusion," the authors concluded that the use of fat injection for breast augmentation should be "prohibited continuously."
The study by Dr. Cong-Feng Wang of Meitan General Hospital in Beijing looked at 48 women who underwent fat transfer, which the authors refer to as "autologous fat injection for breast augmentation." They found eight cases (16.7 percent) with clustered microcalcifications in postoperative mammograms, and in all eight cases the microcalcifications were regarded as "highly suspicious" for breast cancer.
The abnormalities prompted surgical biopsy to remove and examine the breast area showing microcalcifications, but none of the biopsies revealed breast cancer. The calcifications appeared to be related to death of the injected fat cells.
The study's recommendation to discontinue the procedure conflicts with a study published in the March issue of PRS journal, the official journal of the American Society of Plastic Surgeons (ASPS), which concluded that "Radiographic follow-up of breasts treated with fat grafting is not problematic and should not be a hindrance to the procedure."
An ASPS release noted the conflicting studies and said that the results "highlight the need for caution — and for more scientific evidence on the mammographic changes occurring after fat injection."