3 Common Tummy Tuck Myths (Get the Facts)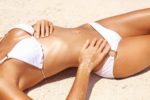 There's plenty of information out there regarding tummy tuck surgery and what the procedure can and cannot do. Like most information found on the internet, though, much of what you hear about tummy tucks needs to be taken with a grain of salt. Here in The Woodlands, TX, Dr. Sugene Kim shares some of the most common tummy tuck myths she hears from Houston-area patients and the facts to set them straight.
Myth 1: A Tummy Tuck Is a Miracle Cure for Weight Loss 
Unfortunately, losing belly fat isn't quite as simple as scheduling a procedure with a reputable plastic surgeon.
Ideal candidates for a tummy tuck are at or very close to their target weight prior to treatment.
Tummy tuck, technically called abdominoplasty, primarily addresses loose or excess skin and repairs separated muscles; it isn't performed for weight loss.
In some cases, a combination procedure that adds liposuction to a tummy tuck can offer more comprehensive results, although it's still necessary that you follow traditional weight loss methods like diet and exercise to reach your ideal weight first. For other information about what makes you a good candidate for a tummy tuck, see this post.
Myth 2. Abdominoplasty Scars Are Impossible to Conceal
It is true that a tummy tuck will require an incision that spans from hip to hip, but your plastic surgeon can take great care to place this incision in such a way that it will be hidden by your clothing, including your underwear and bikini bottoms. Additionally, you can expect your scar to fade over time as it continues to heal.
Myth 3. Weight Gain Won't Affect Your Results
While small weight fluctuations aren't likely to alter your tummy tuck results, significant weight gain can have an effect on your new look. To keep the sleek contours that you've achieved with the help of abdominoplasty, it's important to maintain healthy eating and consistent exercise habits.
To find out more about tummy tuck surgery and if you're a candidate, contact Dr. Sugene Kim using our online form or call (281) 363-4546.