Liposuction Questions? We Have Answers!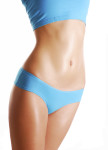 Is there a "pinchable" place (or two) on your body that you wish wasn't there? If you keep up with healthy diet and exercise habits most of the time, but still have fat bulges on your stomach, thighs, hips and other areas, then you may be the perfect candidate for liposuction. Liposuction is an effective fat removal procedure that will smooth out your shape by removing excess pockets of fat from one or more areas on your body. In this post, Dr. Sugene Kim of SGK Plastic Surgery answers some of the most common questions about this procedure.
How Much Time Does Liposuction Take?
The length of your surgery will largely depend on the extent of the surgery and the number of areas being treated. Typically, a liposuction procedure can take anywhere from two to four hours to complete.
Does Liposuction Hurt?
Patients are placed under general anesthesia during surgery, so they generally report a minimal amount of discomfort. After surgery, there will be some mild to moderate discomfort as well as swelling and possibly bruising. Pain medication is prescribed to help with the discomfort for the first few days after surgery.
Will Liposuction Leave Scars?
The liposuction treatment involves extremely small incisions (around 1/8" to 1/4") where the cannula (the thin, hollow tube used to suction out fat) is inserted. Due to the size of the incisions, any scarring is minimal and usually near-invisible if a good program of scar management (including keeping the incision sites out of the sun while they heal) is kept.
Will My Fat Return after Having Liposuction?
Since not only the fat itself but the majority of fat cells are removed from the treatment area, they can no longer store fat. If weight is gained after the liposuction treatment, it will be more evenly distributed on the body.
When Can I Return to My Normal Routine after Having Liposuction?
Dr. Kim recommends that her liposuction patients walk around starting the day after surgery. This movement will help with the swelling after surgery. However, patients should wait approximately two to four weeks before resuming exercise. Patients can typically return to sedentary work (like a desk job) about three to five days after surgery, and after seven to 10 days for more physically demanding jobs.
Schedule Your Liposuction Consultation with Dr. Kim
If you're interested in learning more about your body contouring options, including liposuction, Dr. Kim is happy to answer any questions you may have. To find out more about this fat removal procedure, including if you're a candidate for it, schedule a personal consultation with Dr. Kim by calling SGK Plastic Surgery at (281) 363-4546.