Most Popular Summertime Plastic Surgery Procedures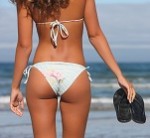 Now that summer is here, and you are trying on your bathing suit for the first time since last year, you may be realizing that you could use a little help improving certain aesthetic concerns. Perhaps you wish your breasts were more voluminous or your thighs were a bit more contoured. If this sounds familiar, you are not the only one who feels this way. Here, Dr. Sugene Kim shares some of the most popular summertime plastic surgery procedures.
Breast Augmentation
If you have recently tried on your favorite bikini and are disappointed to find that your breasts do not fill out the top as much as you would like, don't worry. Dr. Kim offers breast augmentation with saline or silicone implants to give you the voluptuous breasts that you desire. She offers different approaches to breast augmentation that can give you a dramatic degree of breast enhancement and cleavage or a subtle lift throughout the breasts. Either way, you will look great in your favorite itsy bitsy bathing suit.
Liposuction
Sometimes, following a well-balanced diet and fitness routine is not enough to get rid of stubborn fat from under the skin. For those "problem areas" plagued by localized pockets of fat, Dr. Kim offers liposuction. Liposuction is an effective way for relatively fit individuals to fine-tune certain areas of the body, including the abdomen, back, thighs, hips, buttocks and more. You can have a more sculpted body contour in as little as a few weeks!
Cellulaze
Bothered by cellulite on the backs of your legs or on your hips, thighs or buttocks? Dr. Kim offers a solution for this aesthetic issue, too. With Cellulaze laser treatment, you can improve the look of cellulite with minimal downtime, so you look great coming and going.
To schedule a consultation with Dr. Kim to find out more about these popular summertime procedures, please contact SGK Plastic Surgery by calling (281) 363-4546 today.