Motivational Ideas to Help You Stay Active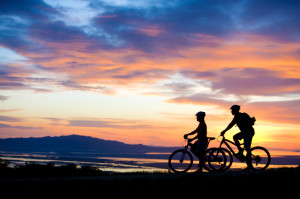 If you are one of the tens of thousands of individuals in the United States who vow to lose weight or get in better shape over the New Year, Dr. Sugene Kim is here to help. She offers the following motivational tips to help you stay active this year.
Start Slowly
If you are new to working out or have been absent from the gym for a long time, start out slowly. Don't feel as though you have to run 10 miles the first time you attempt to jog or do 100 pushups the first time you go to the gym. Don't compare yourself to others and do what feels right for your body. If you have unrealistic expectations, you will soon feel frustrated and give up your resolve to get in shape.
Furthermore, any little bit helps. A recent study followed women who were sedentary. The women regularly walked and 470 steps more every day than they had the previous week. (This equates to about a five-minute walk.) On average, they lost ½ inch from their midsections, without even changing their diets.
So, set small, attainable fitness goals for yourself and then build on them each week. For example, promise to take the stairs instead of the elevator or park far away from the entrance to your office. Take a brisk 10-minute walk at lunchtime or after work. The next week, add distance or time to your previous fitness goals.
Enjoy Yourself
There are so many physical activities that you can do — choose the ones you enjoy! If you do not like running, try riding your bicycle (or a horse!) instead. If you do not enjoy the gym, choose outdoor activities such as a boot camp or hiking. If you choose fun physical activities, you will look forward to doing them each day, instead of feeling as though exercising is a chore to get through.
Turn Your Focus Outward
If you are out for a hike, be sure to look around you and enjoy the scenic view. If you are going for a brisk walk around your neighborhood, stop once in a while and literally smell the roses. Go for a bike ride around sunrise or sunset and look up at the sky. By turning your focus outward, your workouts will fly by.
Reward Yourself
Finally, reward yourself for a job well done. Set attainable goals, such as working out three times a week. Every month, check in with yourself. Did you stick to your goals for the month? If so, you deserve a reward of your choice. You can treat yourself to a new outfit, a girls' (or boys') night out with your friends, quiet time away from the children or a relaxing bubble bath or massage. Choose a treat that is meaningful to you — just be sure it is something that will not derail your fitness efforts!
Need Additional Help With Pesky Problem Areas?
If you have stayed on track with your fitness goals but still have pesky problem areas with stubborn fat that are resistant to your healthy lifestyle habits, Dr. Kim can help. She offers liposuction, nonsurgical skin-tightening treatment and other body contouring procedures that can help you fine-tune the areas of your body that are not responding to your hard work.
To schedule a consultation with Dr. Kim to learn more about your body contouring treatment options, please contact SGK Plastic Surgery by calling (281) 363-4546 today.