What to Give on Father's Day? Male Cosmetic Surgery Perhaps!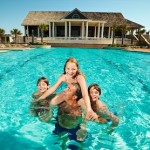 Each June, you probably ask yourself the same question: What should I give the dad in my life for Father's Day? It can be hard to find the right gift for the man who seems to have everything. But here's a creative idea: At SGK Plastic Surgery in Katy / Woodlands, we suggest treating the father in your life to the cosmetic surgery — or nonsurgical — treatment of his choice.
Here are just a few of the reasons an increasing number of dads are hinting that they would like to undergo a cosmetic procedure!
Growing Interest in Male Plastic Surgery
Although men do not like to discuss their desire for cosmetic surgery or nonsurgical treatment with one another, countless men are opting for cosmetic help in correcting an aesthetic concern. According to the American Society of Plastic Surgeons' most recent annual cosmetic surgery statistics report, many plastic surgery procedures are on the rise among men. For instance, rhinoplasty is up by 26 percent from the previous year; male breast reduction has increased by 11 percent; eyelid surgery has increased by 14 percent; and many other procedures such as facelift surgery have also experienced increased popularity since the previous year.
If your dad desires a cosmetic procedure, he is in good company and does not need to feel ashamed of wanting to look his best!
Plastic Surgery Tailored for Men
One of the possible reasons there has been an increased interest in male plastic surgery is that experienced plastic surgeons like Dr. Kim are able to tailor the aesthetic results of cosmetic surgery to satisfy a man's desire for a masculine, natural and youthful look. Men no longer have to be concerned that their results will look too feminine. They are able to retain a masculine appearance while correcting the cosmetic concerns that have been bothering them.
Nonsurgical Cosmetic Treatment Options
For the dad in your life who is not yet ready to pursue plastic surgery, injectable cosmetic treatments or laser skin procedures are a great option. Injectable treatments include BOTOX muscle relaxant, which suspends muscle movement temporarily, thereby smoothing out the overlying wrinkles; and dermal fillers such as Juvéderm, which restore volume to the face.
Give the Perfect Gift
If your dad or the father in your life has been hinting about desiring cosmetic enhancement, Father's Day is the perfect time to treat him to the cosmetic surgery or nonsurgical procedure of his choice.
To schedule a consultation for the dad in your life with the Woodlands / Katy plastic surgeon Dr. Kim, please contact SGK Plastic Surgery by calling (281) 363-4546 today.