Your Mommy Makeover Questions Answered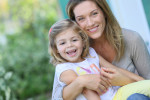 Whether you're a new mom or it's been years since your last pregnancy, the Mommy Makeover procedure was created for moms like you — women who want to restore, or even improve upon, their pre-pregnancy body. That's why the procedure is so versatile, as it's made up of a combination of two or more procedures (breast augmentation, breast lift, tummy tuck and liposuction) that can be included to create a tailor-made treatment designed to fit your specific body shaping needs and goals. In this blog post, board-certified plastic surgeon Dr. Sugene Kim answers some of the most common questions she receives about this combination procedure.
How Long after Childbirth Should I Wait Before Having a Mommy Makeover?
It is advisable to wait about six months after childbirth before undergoing mommy makeover surgery. This time period will not only allow your body to return to a more normal weight, but it will allow for pregnancy hormones to balance out and for your skin to return to a more normal, pre-pregnancy elasticity. If you are breastfeeding, it is also important to wait two to three months after weaning your child before having the surgery.
Can I Have a Mommy Makeover if I've Had a Caesarean Section?
Women who have undergone a Caesarean section are great candidates for this surgery. A mommy makeover that includes a tummy tuck will remove excess skin on the stomach and often remove the scar left over from a C-section in the process, creating a smooth, flat stomach.
Should I Have a Mommy Makeover if I Plan to Have More Children Later?
Dr. Kim recommends that mothers who are planning to have more children in the future should wait until their family is complete before having a mommy makeover. The reason for this is that any future pregnancies will undo a lot of the effects of the surgeries included in the procedure, including tummy tuck and breast lift surgery.
Will I Have Scars after a Mommy Makeover?
Scars are an inevitable byproduct of any type of surgery. However, Dr. Kim is trained to make small incisions that can be hidden in natural skin folds and areas that can easily be covered up with underwear and clothing, so that scars are less visible.
After Surgery, How Long Will I Be Out of Commission?
It is important to rest as much as possible during your recovery period, as it helps the body to heal. The length of your recovery period depends on the types of surgery included in your mommy makeover procedure. Typically a woman will need between one and three weeks before returning to her normal daily routine, during which time you will need to have someone else care for your small children as you won't be able to bend over or lift them.
Talk to Dr. Kim about a Mommy Makeover Customized for You
If you have more questions about the mommy makeover procedure, or if you're ready to discuss your surgery options for this combination procedure, contact Dr. Kim at SGK Plastic Surgery to schedule a consultation. Call us today at 281-363-4546.