Will I Need Implants With My Breast Lift?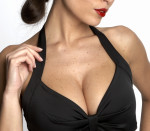 Breast sagginess is a common concern among women following pregnancy or weight fluctuations. It is also a natural effect of the passage of time. Breast lift surgery enhances the appearance of the breasts by raising them to a higher, more youthful-looking position on the chest. In many cases, breast implants can also improve the appearance of sagging, deflated breasts. In this blog post, double board-certified plastic surgeon Dr. Sugene Kim discusses when it is appropriate to combine breast lift with implants for Houston women who want to rejuvenate their breasts.
When to Consider Breast Lift With Implants
Breast lift surgery alone can correct sagging breasts, downward-pointing nipples, and overly large areolas. During the procedure, Dr. Kim removes excess skin and reshapes the breast tissue while moving it to a higher position on the chest wall. If necessary, Dr. Kim can also adjust the position of the nipples as well as reduce the size of the areolas. The procedure is an excellent option for women who seek perkier breasts but are satisfied with the size of their breasts.
Women who have deflated, drooping breasts following pregnancy, breastfeeding, and weight loss often benefit from combining the procedure with breast implants. The combination procedure will both lift the breasts and restore or add volume for fuller, younger-looking breasts. This can be especially beneficial for women who seek to add volume in the upper pole of the breasts. Following a breast lift, the breasts typically retain a natural teardrop shape, with the bottom half of the breast looking fuller than the top. Implants add fullness to the upper part of the breasts, enhancing their appearance and even adding cleavage.
Additional Benefits of Combining Implants With Breast Lift
Not only does combining breast lift with implants enhance the appearance of the breasts, it can also add to a more beautiful overall physique. Many of Dr. Kim's patients find that the combination procedure, which may be part of a mommy makeover, improves their overall figure; fuller, perkier breasts can help create a sexier, curvier, proportioned body.
A combination procedure also means the patient only undergoes surgery once and avoids additional visits to their plastic surgeon's office. The body is able to heal all at once from the two procedures and patients are able to enjoy their fuller, perkier breasts sooner.
Contact Dr. Kim Today
Are you considering breast lift surgery but are still unsure whether having implants placed is the right option for you? Request a consultation with female plastic surgeon Dr. Sugene Kim using her online contact form or by calling the office. During your consultation, Dr. Kim will listen to your aesthetic concerns and goals, as well as evaluate your breast anatomy in order to recommend an appropriate treatment plan.